The Ryan family would like to acknowledge and thank Ssgt. Karl Schaeffer for his unselfish acts of bravery and courage. It is with much gratitude and deep appreciation that this fine Marine receive our recognition and our unending love for saving our son, Sgt. Eddie Ryan.

Honoring Barry Fixler….Veteran of the Year 2009

Honoring Barry Fixler….Veteran of the Year 2009




Sgt. Ryan's first big game hunt…bagged himself a beautiful Elk that was shot with a replica of his sniper rifle…Nice shot Marine!


the Mom, Dad and little sister Felicia

Sgt's first fishing trip..…on a boat!!




Our Awesome SE-RATS (Sgt. Eddie Ryan Assistance Team)celebrating his 26th Birthday! Happy Birthday Marine!!! Mom & Dad….so proud of this Marine….OOO-RAH!!!


Pictures of the "Freedom Concert" August 15th, 2009

Pictures of the "Freedom Concert" August 15th, 2009

Pictures of the "Freedom Concert" August 15th, 2009

Pictures of the "Freedom Concert" August 15th, 2009

Pictures of the "Freedom Concert" August 15th, 2009

Pictures of the "Freedom Concert" August 15th, 2009

Pictures of the "Freedom Concert" August 15th, 2009

Pictures of the "Freedom Concert" August 15th, 2009

Pictures of the "Freedom Concert" August 15th, 2009

Pictures of the "Freedom Concert" August 15th, 2009

'Gary Sinise' Concert at Westpoint on August 2, 2009.

'Gary Sinise' Concert at Westpoint on August 2, 2009.

'Gary Sinise' Concert at Westpoint on August 2, 2009.

'Gary Sinise' Concert at Westpoint on August 2, 2009.

Leathernecks Motorcycle Club" Run on July 25th, 2009

Leathernecks Motorcycle Club" Run on July 25th, 2009

Leathernecks Motorcycle Club" Run on July 25th, 2009

Leathernecks Motorcycle Club" Run on July 25th, 2009

Leathernecks Motorcycle Club" Run on July 25th, 2009

Leathernecks Motorcycle Club" Run on July 25th, 2009

Leathernecks Motorcycle Club" Run on July 25th, 2009

Leathernecks Motorcycle Club" Run on July 25th, 2009

"Walker ValleyWarthogs Poker Run" July 11, 2009

"Walker ValleyWarthogs Poker Run" July 11, 2009

"Walker ValleyWarthogs Poker Run" July 11, 2009

Sugar Red Drive… Thanks for your support…you guys rock!!!

Visit with Erwin Benz (F.O.P/Knights of Columbus). Thanks Erwin for your friendship and support.



Sal Scialo (M.O.P.H.) and former Marines - Thanks gentlemen for your service!



Mr. Neil Gilberg, lovely wife Linda and Marines show their support.




Mr. Francis S. Currey (Medal of Honor Recipient). U.S. Army brings Eddie a special gift - a G.I. Joe in his likeness - Thank you Sir for your service and sacrifice!


Flanked by two former Marines, his dad and friend Joe Pushman help Eddie stand tall and proud. The Sgt. is motivated!



The Sgt. with dear friend & great supporter Scott Walton



Sgt. Ryan embraces Scott's grandson Christopher



A surprise visit with Ralph Macchio (the Karate Kid) his dad, Ralph Macchio Sr., and uncle Tony. God Bless you and thank your for your support.



Steve Motola (The Mustang Club of Orange County) and friends. The Sgt. really enjoyed the visit and seeing all those mustangs!



The Sgt's first fishing trip. He reels in this huge catfish!



Mom proud of her marine.


Lt. John Gormley and friends from FDNY VFW Post 12033. Thank you for your visit and your most generous donation and most of all for who you are and all you do. You guys are ACE!


Jeri Kopin and "friends of Sgt. Ryan" @ Tthe Sgt. Ryan Poker Run in NJ, September of '07. Thank you all for giving us an incredible day!


Sgt. Ryan with awesome aide and friend Rebecca.


Sgt. Ryan is honored among others at the Purple Heart Convention - Thank you Mr. Esau, Mr. Poulter, Mr. Clark and friends.

Getting a big hello and thank you from friend Kathy Mozzola

Sgt. Ryan Salutes his many friends and supporters - OOO-RAH

In loving memory of our dear friend Bob Guldner, who when Sgt. Ryan was first injured stood on the street corners of Yonkers NY and handed out thousands of flyers asking people to please pray that Sgt. Ryan would live. Bob, dear soul, we love and miss you. Heaven Rejoices!




Sgt. Ryan at the Greentree Country Club Benefit Dinner in New Rochelle, May 4th, 2007. The Greentree is owned by Dennis Grammas and family. This dinner was in honor and support of Sgt. Eddie Ryan. We salute and thank the Grammas family for their support - God Bless You Ten-Fold!


Sgt. Ryan with personal trainer and friend Ed Hodas. This Marine can pack a punch!




"Once a Marine, Always a Marine" The Sgt's Goal - To Get Back into Uniform.



Our visit back to Helen Hayes Hospital. Our stroll in McArthur Park brought us to one of many, many "special" bricks found here.



This photo is a copy of a beautiful portrait designed by Roberto Castaldi for Sgt. Ryan. This marine sargeant and this flag will always stand for freedom. Thank you Roberto!
---

Paul Solomon, our Music Therapist. Thanks for putting a song in our hearts for we can make a joyful noise.

Mrs. Lori Logan, our Speech Therapist. Always a smile, always sweet! You are amazing!
Loreann Worden, our Massage Therapist (TLC Massage Therapy). You travel far and sacrifice your time. God Bless you, for you are working wonders!

---

Many thanks to our wonderful supporters. May God Bless you all for your prayers, for they are truly working. We are also encouraged and moved by your cards and letters, they are like gold to Sgt. Ryan. I cannot put into words how thankful we are and in just seeing day to day how God's mercy and grace is unfolding before our eyes. He is truly an awesome God! Thanks to our friends Aida and Edison (A&E) for always keeping everyone posted on Sgt. Ryan's progress. Your hard work and dedication always shines through. God Bless You!

Our hopes and strength comes from all you out there who are keeping my family in prayer. God is Great and we shall always praise Him and you too will see His wonder working powers. For nothing is too small or too great, if only we take to Him in Prayer. You are all so wonderful!

Sincerely, Angie Ryan


---

Eddie with his marine brother Sgt. Shane Holmes and PFC Scott Holmes
visiting from Virginia for Thanksgiving. We have a lot to be thankful for!
Thank you boys for coming and being there for Eddie.


Celebrating Eddie's 23rd birthday, Happy Birthday Sgt. Ryan!
(December 12, 2006) Our son, Our hero, we love you!


Eddie in his new walking machine. This allows Eddie to feel his own weight and to aid him in his therapy.
"Up in the morning with the rising sun, we're gonna run, run, run, till the day is done." Ooorah!



A visit from our wonderful friends and supporters: Tony Piscatelli, Sam Katz and Bill Lo Meli. You guys are awesome!




The Sgt. with marine brothers L.Cpl. Andrew Senior and Cpl. Jimmy Praegel. Christmas was a double blessing having Eddie and having you!


The Sgt. with Mr. Richard Clark and members of the Military Order of the Purple Heart.
Thank you gentlemen for your visit and for your service!



Words cannot express our deep appreciation for the love, generosity and support we receive from our marines, our supporters, our friends. God Bless you all! Semper Fi!

Sincerely,
(M.O.M) Angie Ryan and Family


Our dear friend Ronny (Beach) Ascolilio present Sgt. Ryan with an awesome cake. Thanks Beach!



Our Ulster division of the Marine Corp. League visit and present Sgt. Ryan with a most generous donation - Our thanks to these men for their service!



Sgt. Ryan in his stand-up frame assisted by our wonderful aide June Kelsey

Mr. Horgan drives up from Rockland County to celebrate Marine Corps Birthday and presented a plaque.
A great big thank you to everyone who has sent love and support to my son. God bless you all!
Rooms that were built on for Eddie
Bike Raffle at Prestige Harley Davidson, Congers, NY
Rolling Thunder with our Supporters and Friends
Pastor Dave and Our Friends at Brothers Keeper Church In Texas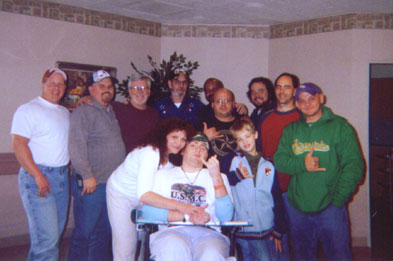 Pictures from The NRA Dinner where Sgt. Ryan was presented with a custom Sniper Riffle!

---
Pictures from Fundraiser BBQ!

---
Look at the AMAZING progress being made at the Ryan Home!

The update on Eddie is that he is still making progress. He gets stronger and stronger and is talking better. Most importantly, he is starting to initiate conversations, this is a big step in his rehab. He stands up six days a week with the aid of leg braces for an hour to an hour and a half a day. He's gaining more muscle in his upper body, starting to lift weights in excess of 15lbs and loves to laugh and have fun with the family. His memory is all intact and he can't wait to do the things he used to do, mostly hunting, fishing and enjoying the outdoors. Its my life's goal to share these times with him again. We thank everybody for their prayers because we know this is how Eddie survived his serious wounds and by God's grace he continually gets better. He has a tattoo of his first dog, Lady, an American Pit Bull terrier who had unmatched determination and courage and Eddie's Marine attitude exemplifies that. At the N.R.A. dinner that is going to be held in Eddie's honor, May 22nd, McMillan Rifle Maker is going to present Eddie with a custom built sniper rifle. At that dinner, Eddie's wants to receive the rifle standing up. Me and another former Marine will (with the aid of leg braces) walk Eddie up to receive his rifle. We work hard to strengthen his upper body, his trunk and his legs to accomplish this very important short term goal.

My long time friends, Pat Hayes and Eddy Hodas, are spear heading the construction of the addition, that's needed for Eddie to come home. Their sub contractor Joe Wilson from Strictly Framing, did an amazing job framing and sheeting the house with 33 framers, they framed and sheeted the house in two days! Less then 22 hours, all for Eddie, to get him home and they continue to work hard, scheduling the work and getting materials donated. All people that have donated will be thanked and recognized at the end. We just got windows in, rough plumbing and rough electric will go in next. Our mailman Tom, whose been delivering our mail for 25+ years, said, he never saw anything go up as fast as this.

God Bless,
Chris Ryan
---
---



Saving Sgt. Ryan
(The Ryan family would like to thank seven very brave US Marine snipers)


Sgt. C.J. Quinlan and Cpl. Eddie Ryan were called to Camp Gannon from Al Quaim, Iraq, to assist another scout sniper team when two were wounded. So they moved closer to the Syrian border to replace the two W.I.A.'s. They left their original scout sniper team Reaper 6, to go on Eddie's 13th and most dangerous mission. Their orders were to go deep into enemy territory during the night and early morning hours, April 12 & 13, 2005.

The eight man sniper team was to locate a particular house, put the Iraqi family under protective custody with two Marines keeping them under house arrest. Sgt. Kurt Irwin and Sgt. Anthony Cuna stayed downstairs with the family. The other six went up to the roof to set up offensive and observational positions to engage with the enemy. Orders stated there were 150-200 armed insurgents in the parameter close by. The snipers were to engage with the armed insurgents who walked these streets, armed and dangerous, terrorizing Iraqi citizens. The odds were against the Marines but snipers are highly trained to call in for air support and ground artillery from tanks which were in the area for extra muscle if needed. Before the six man sniper team went to the roof our son Eddie turned to his team leader, Sgt. C.J. Quinlan (who he highly respected) and asked, "What's it look like, what do you think about this one?". Sgt. Quinlan (who had five combat duty tours in Iraq as seasoned and as hard as they come) turned to his younger comrade, friend and brother and replied, "I think we're going to get into a gun fight." Eddie said, "Let's do it.". Those three words were the last words Sgt. Quinlan heard from Eddie. At that, they took their positions on the roof and Eddie got busy as always doing his job, taking ranges on buildings, doorways, etc. where known insurgents were using. All of a sudden, the snipers came under intense machine gun fire, our son Eddie was struck immediately and went down with two gun shot wounds to the head.

What took place next was the uncommon valor which is a common trait of these brave young Marines. Sgt. Carl Schaeffer and Cpl. Andrew Senior crawled to Eddie's mortally wounded body. Sgt. Schaffer placed his own body over Eddie and administered advanced first aid wrapping his head to stop the bleeding. We were told that Eddie expired but Eddie's God brought him back and he used those brave Marines in a mighty way. At the same time Cpt. Kenny Burdine was calling for a cease fire from the friendly tanks. Yes, the Marines realized that other Marines in tanks made a grave mistake and were firing on their position. Another larger machine gun opened fire, this was a 50 caliber which was ripping through the four foot retaining wall made of concrete type material. Luckily, the 50 jammed after the first burst. Sgt. Quinlan barked out orders trying to save his team while returning fire over the wall and lighting up smoke flares to reveal to the tanks they were shooting at Marines. Cpl. Anthony Lockridge from Tennessee, was also doing all he could do to help his team. Cpl. Kurt Irwin who was downstairs with the Iraqi family ran up to the roof when the gunfight broke out and saw his fallen comrade and friend, Eddie and went to his side to assist. He told us it took at least four strong Marines and a combined effort to safely pick Eddie's body up and carry him downstairs from the rooftop to the Humvee ambulance. It was no easy task with Eddie's 6'1'', 200lbs frame body. With Cpl. Berdine's precise radio skills, the Humvee was waiting outside for Eddie, then drove Eddie outside the city where an army Blackhawk helicopter airlifted Eddie and flew him twenty miles to Al Quaim for emergency medical treatment, then on to Bellad for brain surgery to remove the bullet. As the Marines watched the helicopter take off with Eddie, they all thought it was the last time they would see their fellow Marine, brother and beloved friend.

As parents we knew Eddie as a great son and a loyal friend to all of his Marines. Our God was with Eddie then and is still with him. His sniper platoon returned to US soil, five months later when their deployment was up. Sgt. Kurt Irwin was the first Marine at Eddie's bedside and all the rest followed, all but one, and that one is directly responsible for saving our son's life. We will meet him someday to hold him and to thank him.

Three Marines were written up for the bronze star for their courage and bravery under intense machine gun fire to save their fellow Marine. The Ryan family's promise is that we will fight for those medals that their battalion commander, Lt. Col. Tim Mundy has squashed just like he did Eddie's purple heart. We fought for Eddie's purple heart which he received and we will go through Congress for the other Marines medals.

The Ryan family's relentless efforts along with our Congressional representatives, Sue Kelly, Maurice Hinchey, Rodney P. Frelinghuysen and Bill Young got Eddie's his much deserved purple heart and are interested in helping out the other Marines for their medals and because of Sue Kelly's help, Eddie is now in Helen Hayes Rehabilitative Hospital in West Haverstraw, NY, one of the best in the nation. He continues to improve-one tough Marine.

The Ryan family wants to thank Staff Sgt. C.J. Quinlan, Sgt. Kenny Burdine, Sgt. Kurt Irwin, Cpl, Andrew Senior, Cpl. Anthony Cuna, Cpl. Daniel Lockridge and Sgt. Carl Schaffer for serving our country in the most dangerous missions and rescuing our son and saving Sgt. Eddie Ryan. We have stood in your presence to admire your humility, knowing of your courage from the time Eddie was struck on the rooftop and transported through a hostile city and rushed to a neurosurgeon, twenty miles away by helicopter. It took only forty minutes which saved his life.

We always welcome you Marines to write, call or visit. Eddie loves you all and never wants to be forgotten but always wants you to be a part of his life. God Bless you all.

Eternally Grateful,
Chris, Angie, Felicia and the whole Ryan family.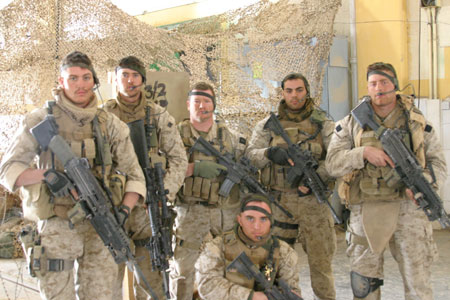 Team Hooah is of Reaper 6. Pictured are (Left to Right) Cpl. Jeff Weaver, Sgt. Jake Lowe, SSgt. CJ Quinlan, Sgt. Patrick Cassidy, Sgt. Eddie Ryan, and kneeling is SSgt. Jon Osborne.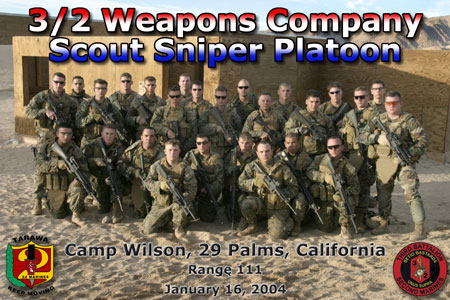 Scout Sniper Platoon. Eddie and CJ are standing next to each other at the very right end of the picture.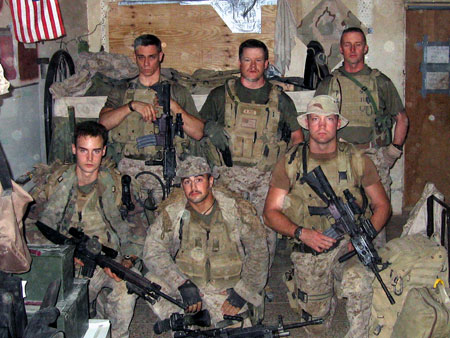 Pump House team is also of Reaper 6- Kneeling are Cpl. Andrew Senior, Cpl. Anthony Cuhna, Sgt. Kenny Burdine, Standing are Sgt. Karl Schaeffer, SSgt CJ Quinlan and Gunnery Sgt. John Harmon, who was not actually a part of the team, but helped extract Eddie and the team after Eddie had been injured. All of the guys in this picture were on the roof with Eddie the day he was injured.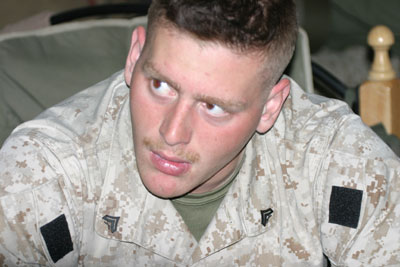 Eddie hanging out in Iraq
---
Eddie Receives the Purple Heart!
The Ryan family and Eddie would like to thank the incredible congresswoman Sue Kelly for helping us as a family from day one. She is a true representative of the people. We are proud of her service to this great nation and our family. We will always support her and call her friend. Thanks Sue!



Click here for Photos of Eddie at Helen Hayes Hospital courtesy of The Times Herald-Record